SAD STORIES OF THE DEATH OF KINGS
RICHARD II & EDWARD II
ST. BARTHOLOMEW THE GREAT/VENTNOR EXCHANGE FESTIVAL, 2015
Scena Mundi's "Sad Stories of the Death of Kings: Richard II & Edward II" enjoyed fantastic press and audience reviews while playing in London's oldest church, St Bartholomew the Great, in May-July 2015.
Similar in theme if not in style, the two plays are so full of echoes that there can be no doubt Shakespeare was inspired by Marlowe's Edward II. Written within a few months of each other, both dramatise the pursuit of and fall from power of weak monarchs. Presenting them side by side is therefore a choice motivated by the plays themselves.
RICHARD II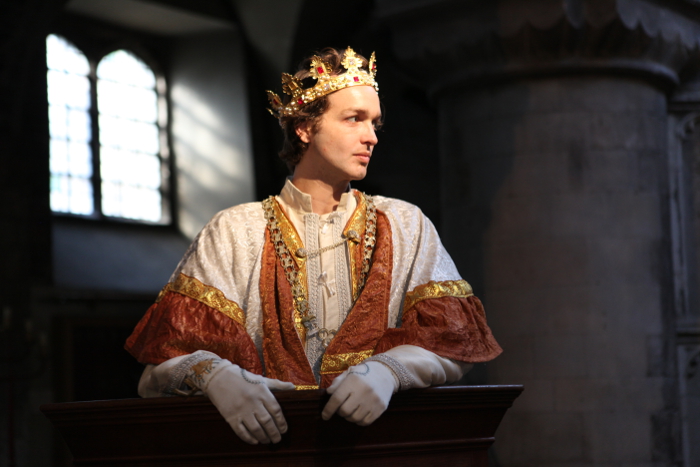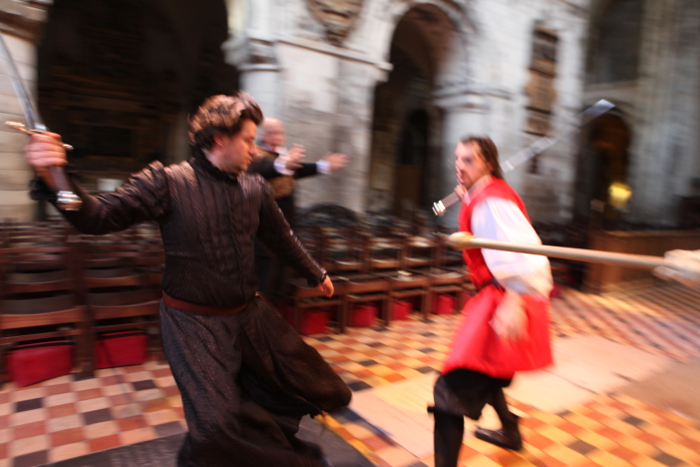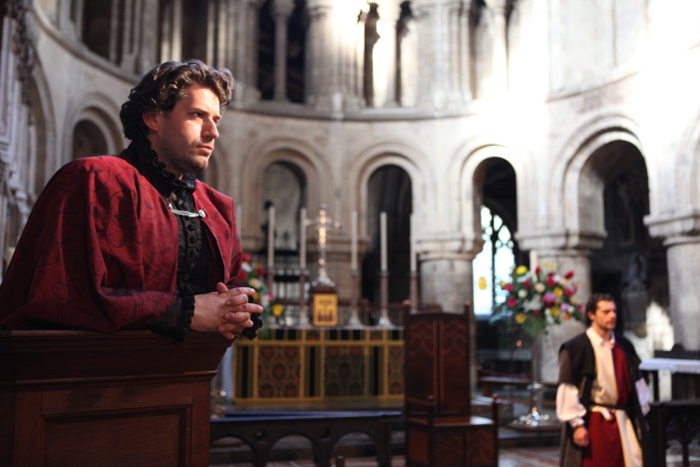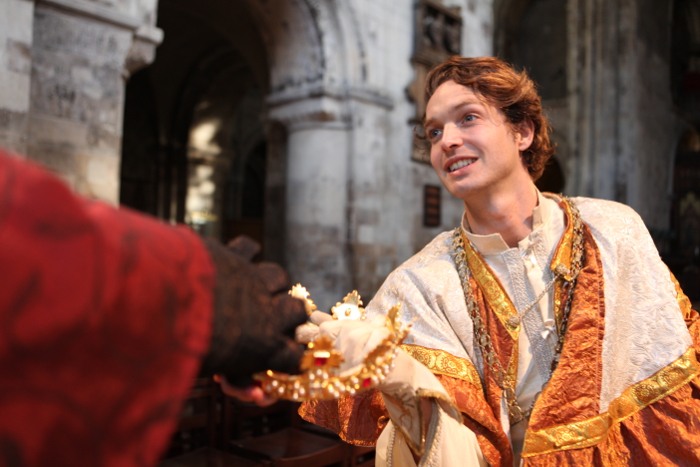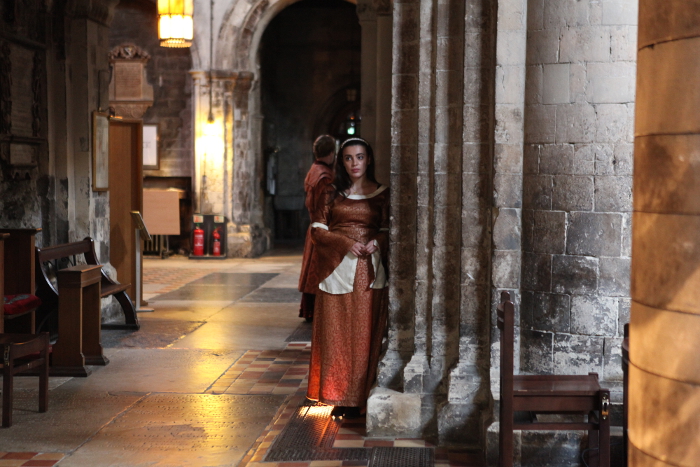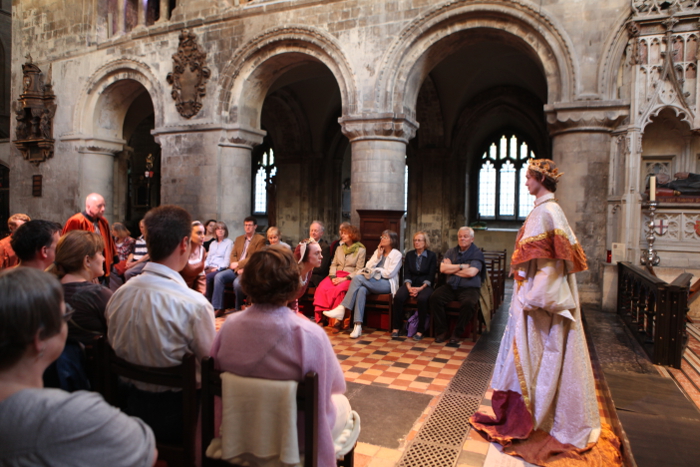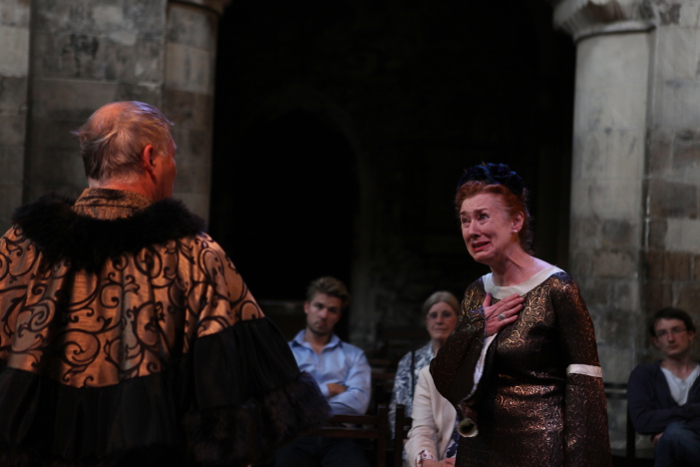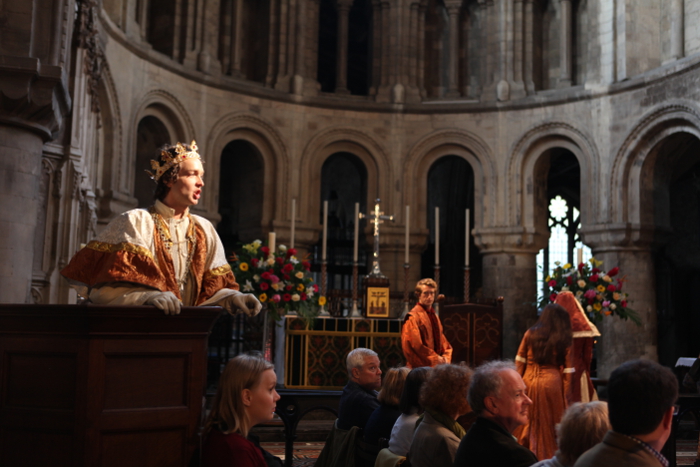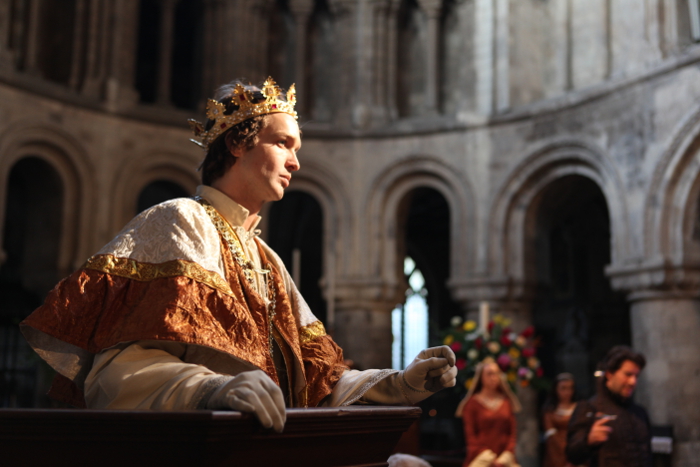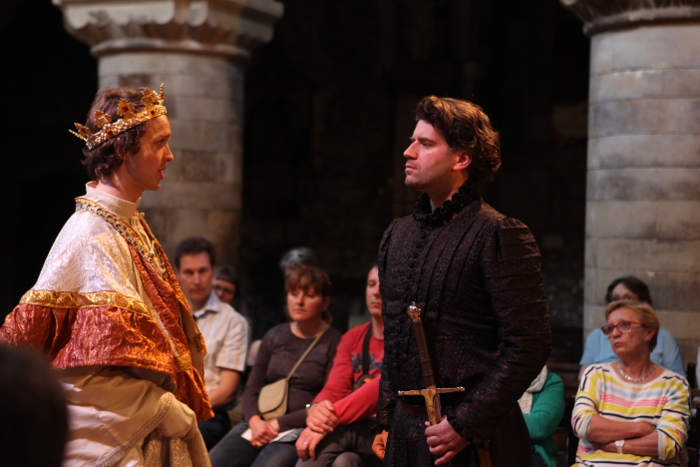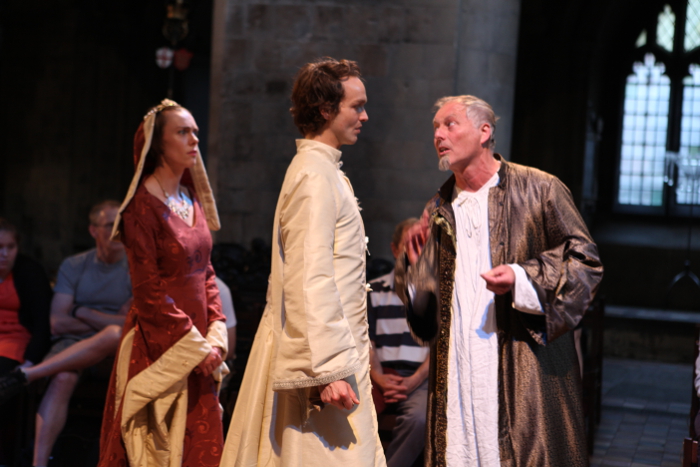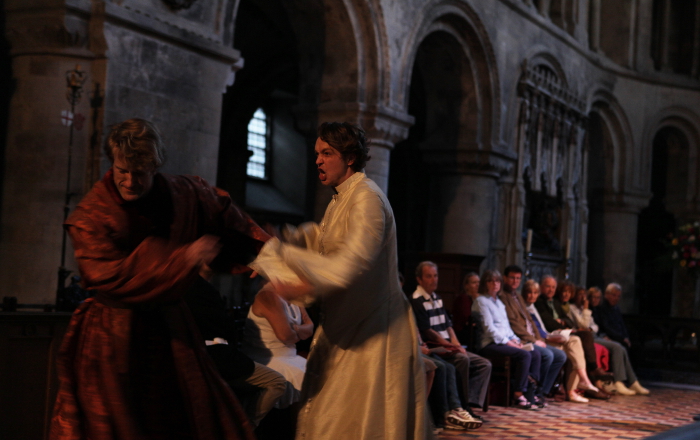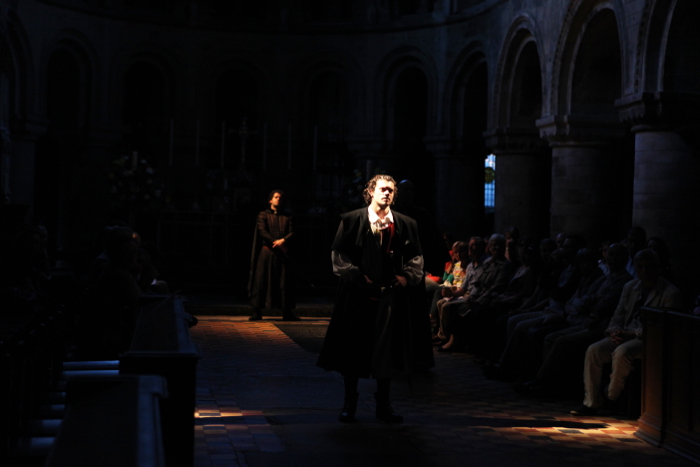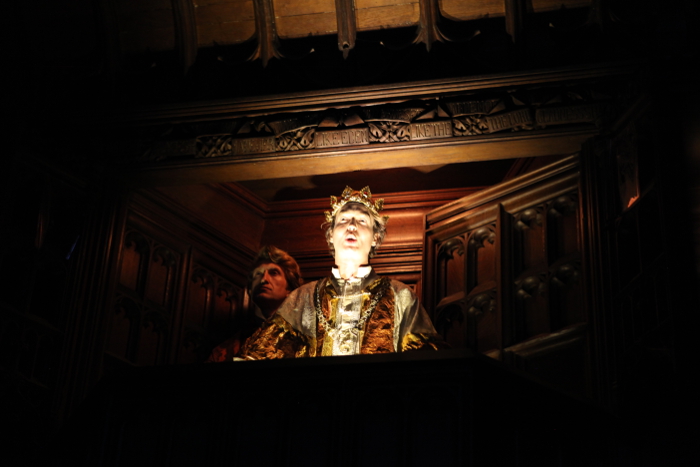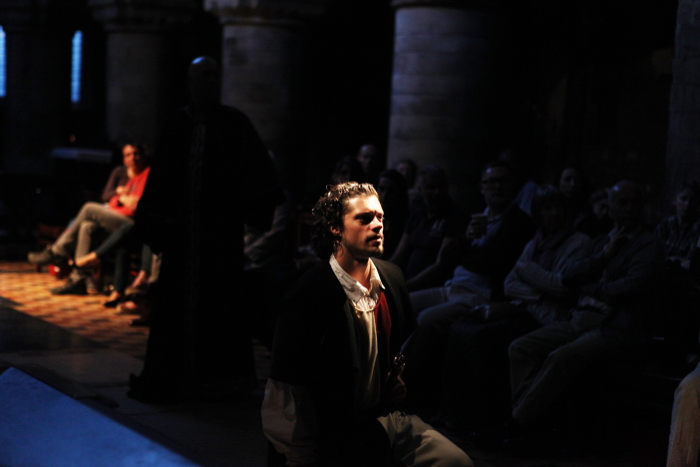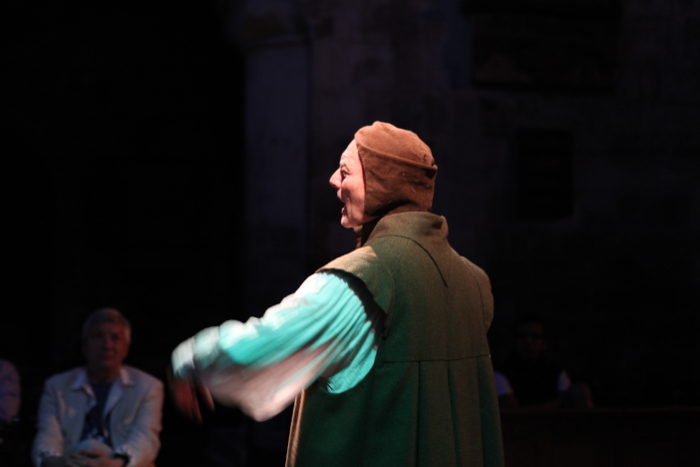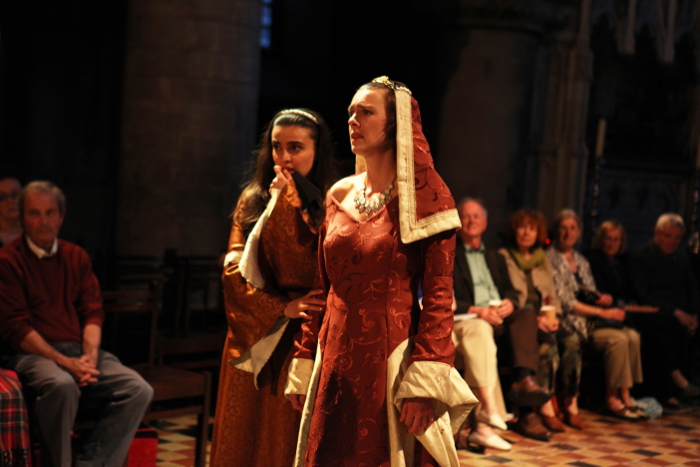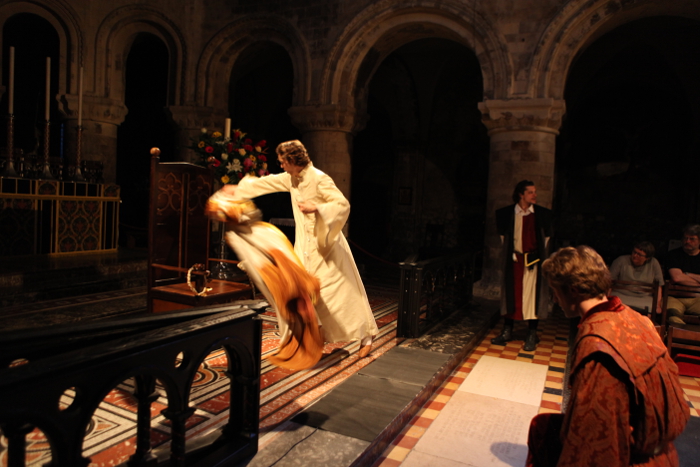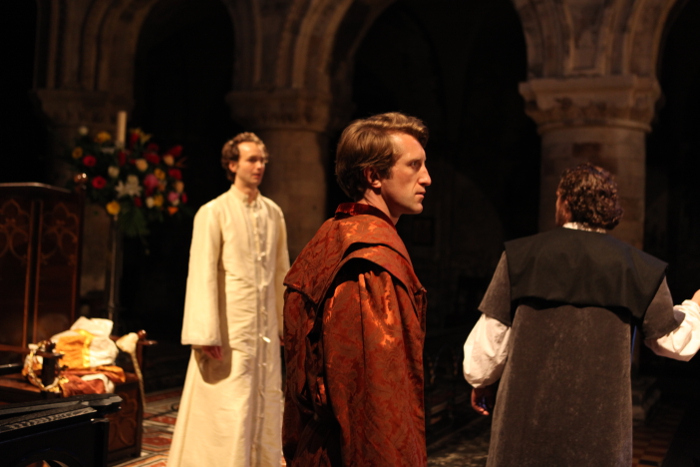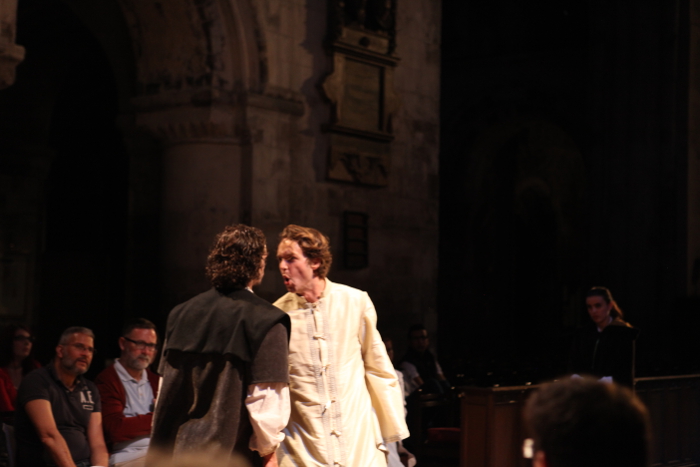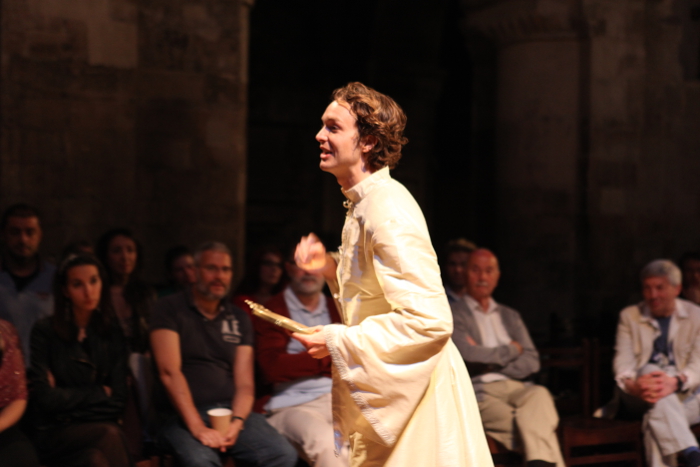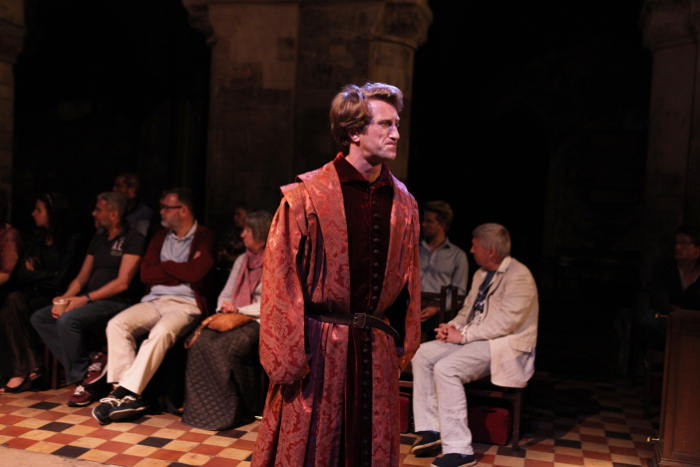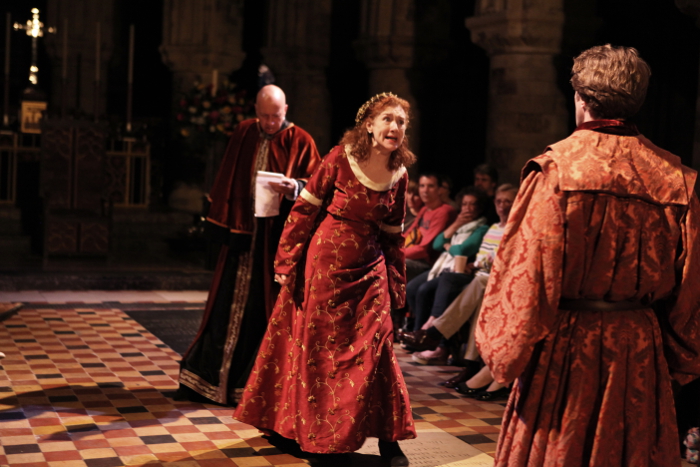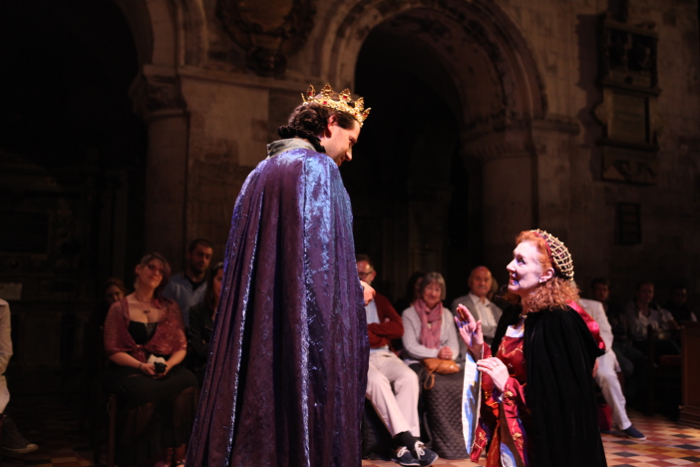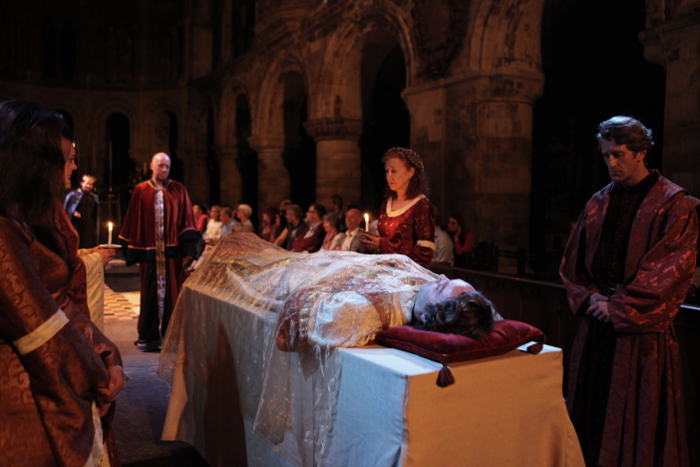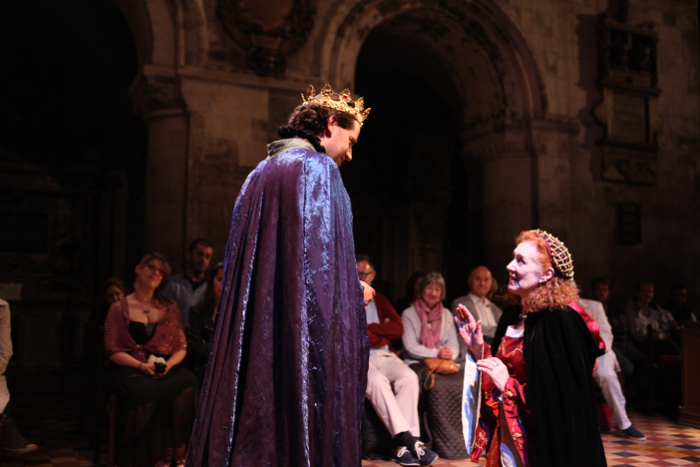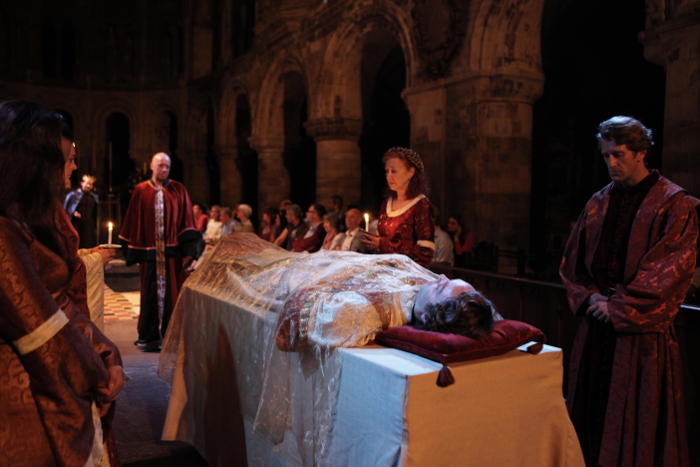 The Tragedy of King Richard II is one of Shakespeare's linguistically and poetically richest plays. Richard, the "mockery king of snow", is a man of refined intellect, subtle and educated, who manipulates his entourage with hisuse of language. Ambitious, arrogant and proud, Richard thinks he is secure in his position as God's chosen king. When challenged by his cousin Bolingbroke over the death of their uncle, Richard banishes him and precipitates his own downfall. The formidable confrontation that follows, in which man-of-words Richard is set upon by man‐of‐action Bolingbroke, leads to Richard's capitulation and his surrendering of the crown. The genuine suffering which oppresses him after his abdication is that of a man whose sense of purpose has gone. Richard's sorrow and philosophical questioning leads him to distinguish between the King and the man – the public figure and the privateindividual.
Shakespeare's Richard is a multi‐facetted character whose final tragedy cannot fail to move audiences.
COMPANY
Pip Brignall (KING RICHARD THE SECOND), Graham Pountney (JOHN OF GAUNT, Duke of Lancaster, Uncle to the King, BISHOP OF CARLISLE & A GARDENER in the Duke of York's palace), Edmund Sage-Green, Ben Higgins, Martin Prest (HENRY, surnamed BOLINGBROKE, Duke of Hereford, Son to John of Gaunt, afterwards King Henry IV), Rupert Bates (EDMUND OF LANGLEY, Duke of York, Uncle to the King & LORD MARSHAL), Eluned Hawkins (DUCHESS OF YORK & DUCHESS OF GLOUCESTER), Edward Fisher (DUKE OF AUMERLE, Son to the Duke of York & GREEN, Follower of King Richard), Anna Buckland (ISABELLA, queen to King Richard), Patrick Oldham (THOMAS MOWBRAY, Duke of Norfolk, SIR PIERCE OF EXTON & EARL OF NORTHUMBERLAND), Nadia Sangari (LADY attending on the Queen)
Cecilia Dorland (Director), Penny Rischmiller (Design & Costumes), Nathalie Gunzlé (Lighting Design & Stage Management), Jean-Philippe Martinez (Original Music)
EDWARD II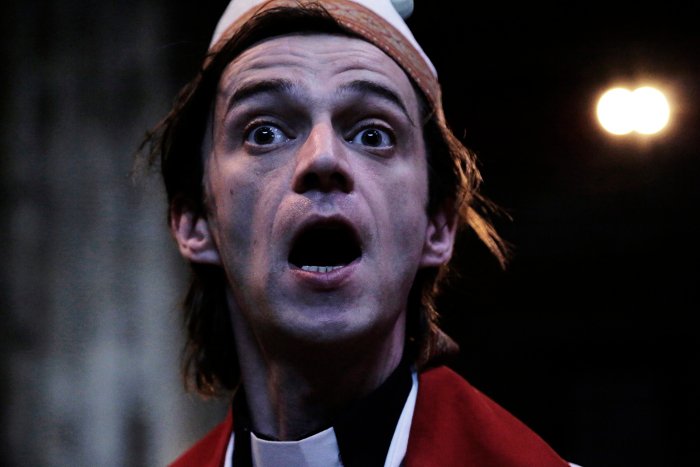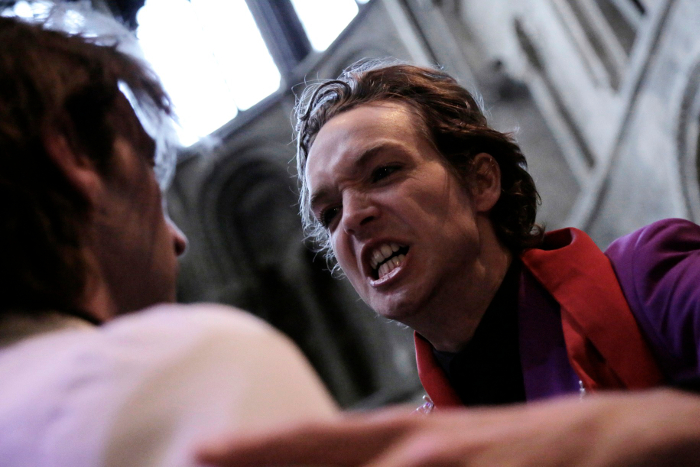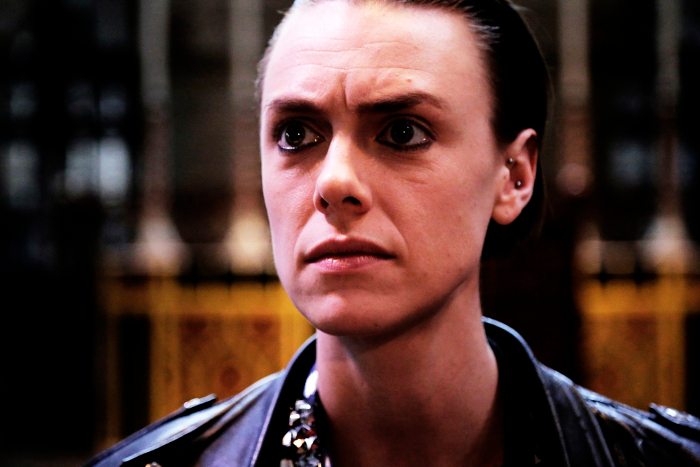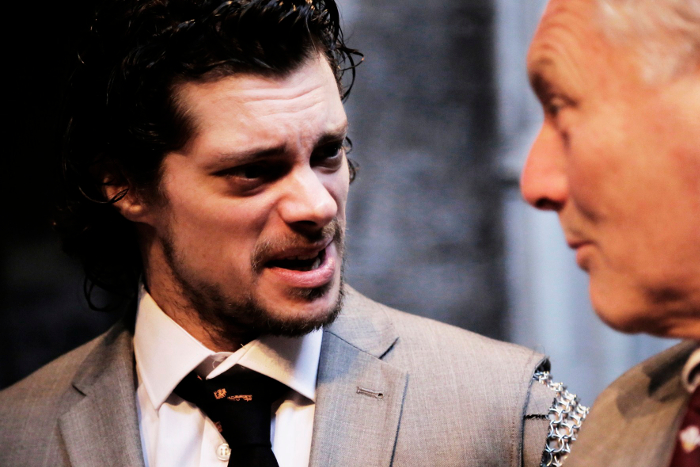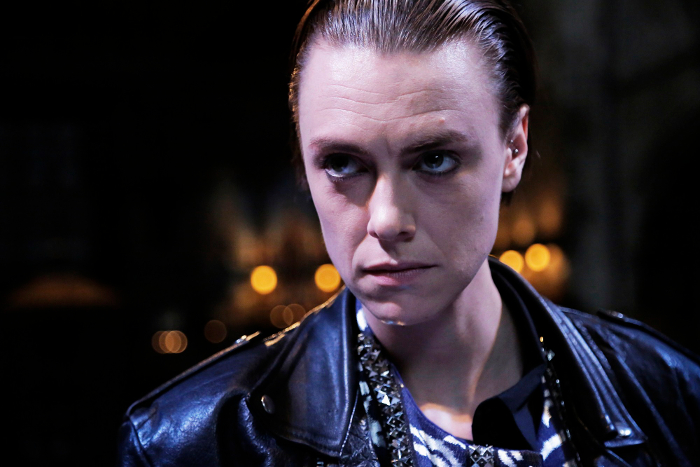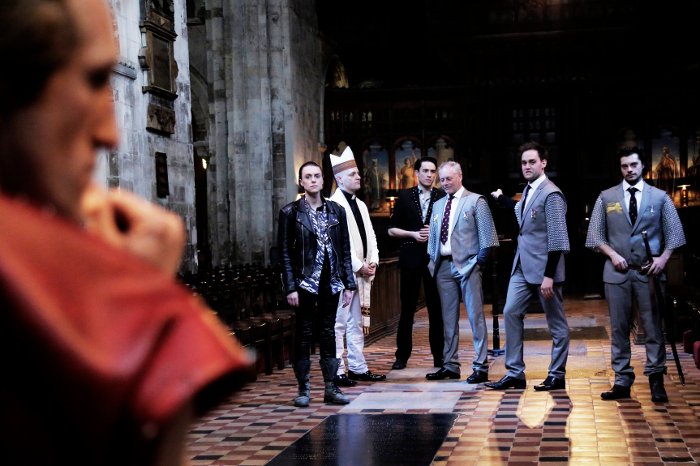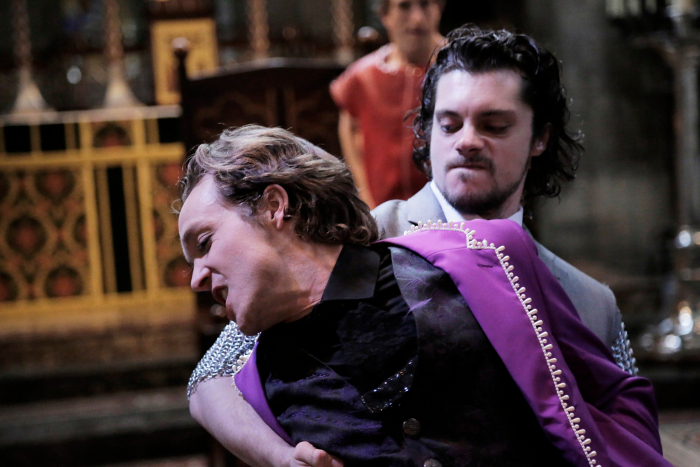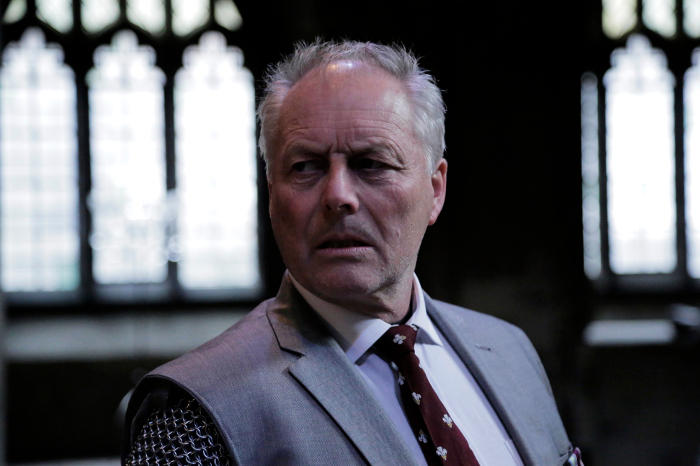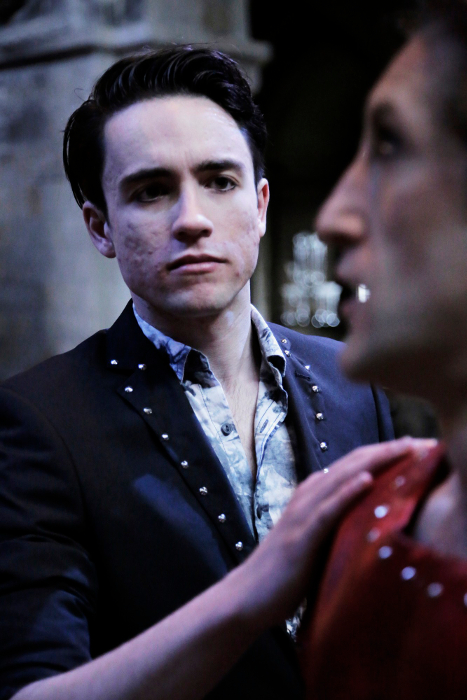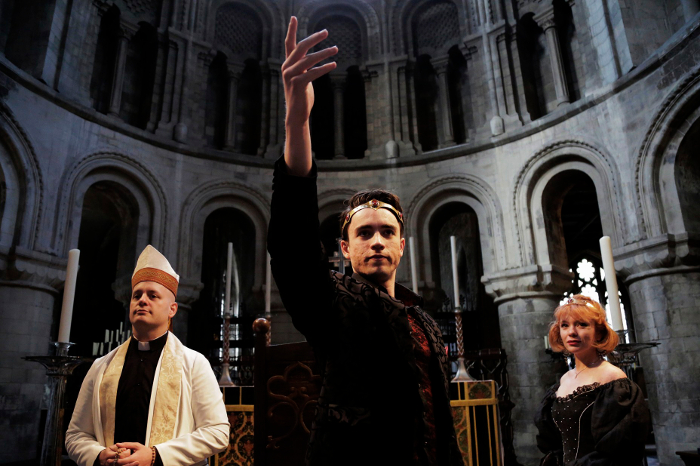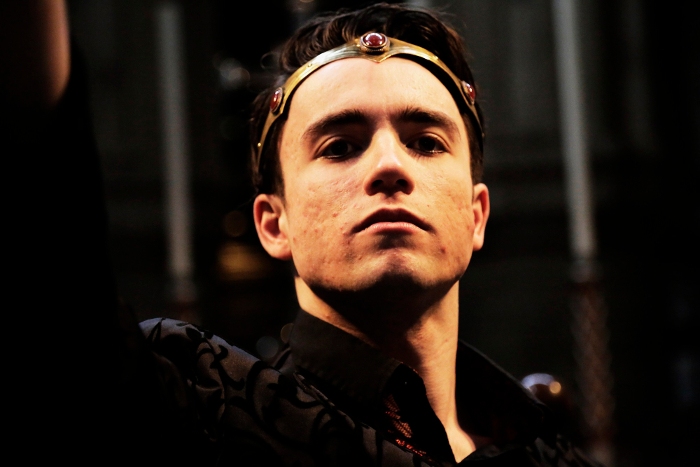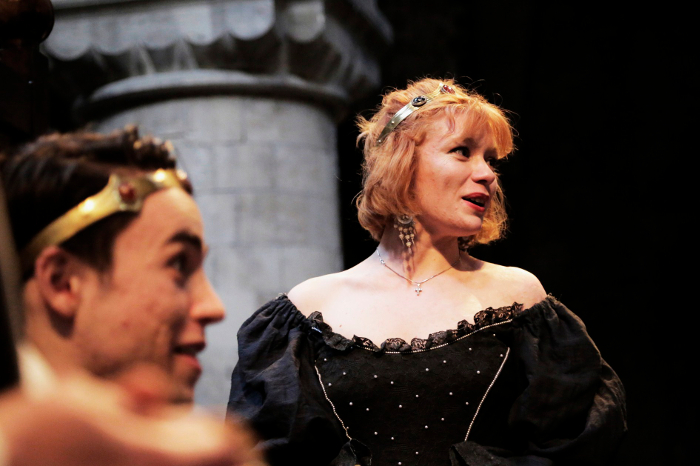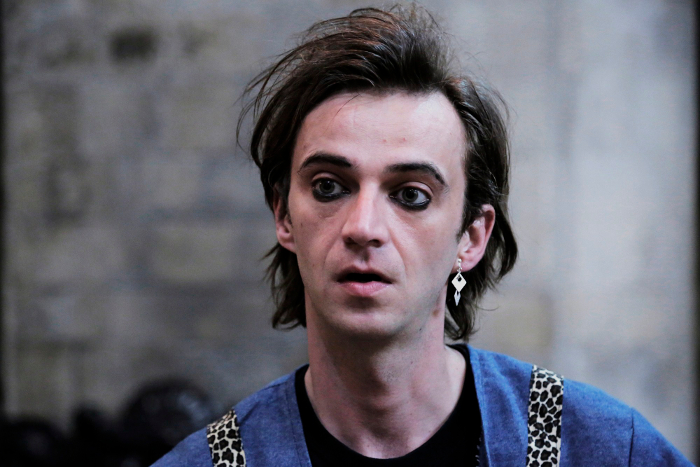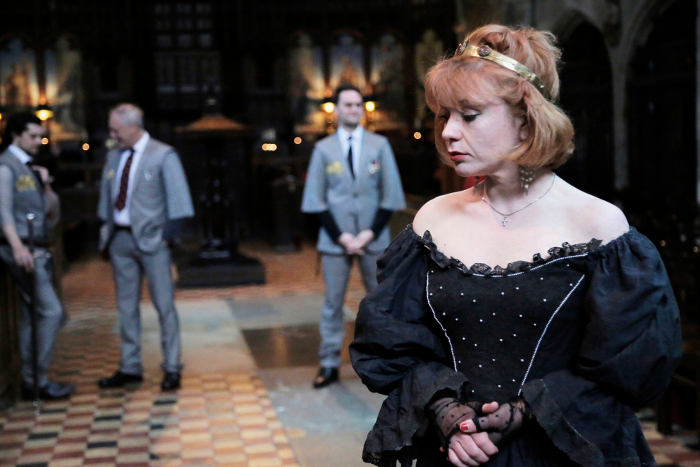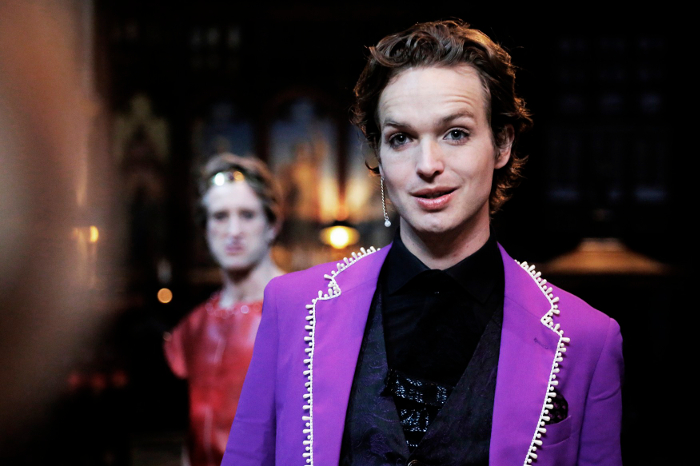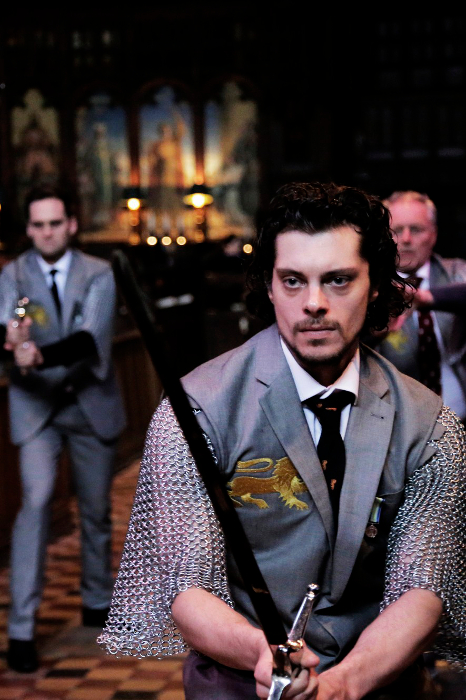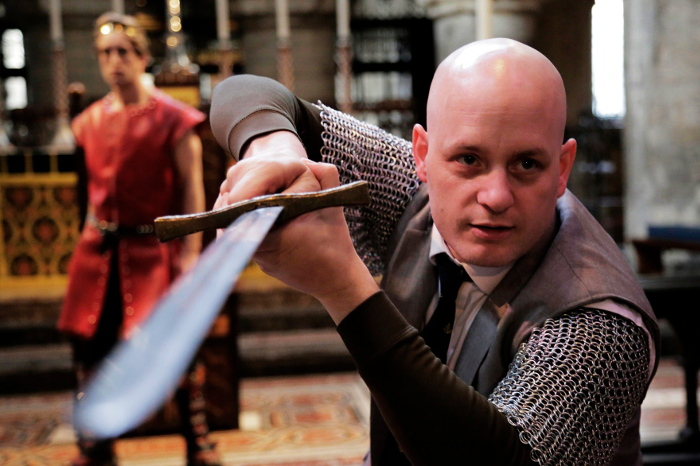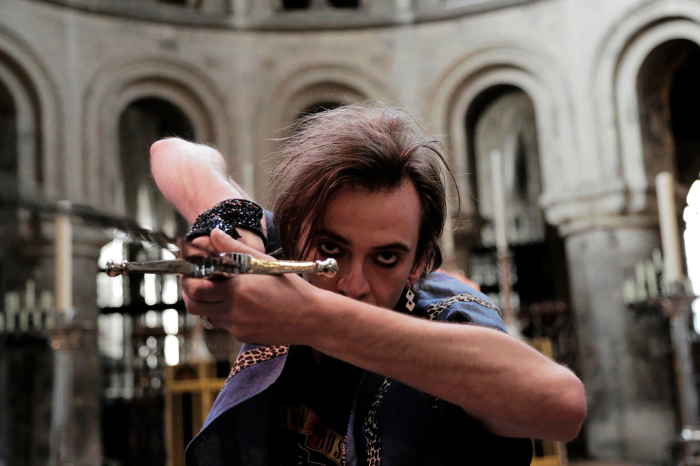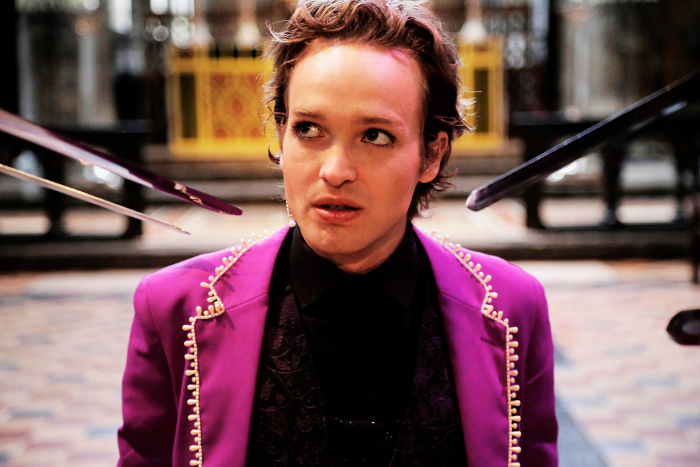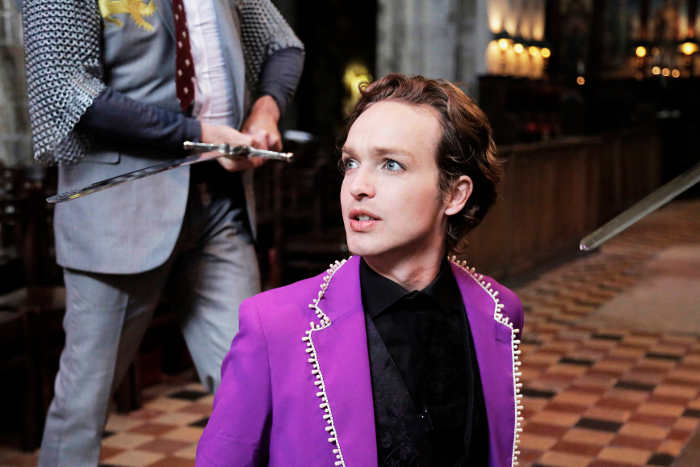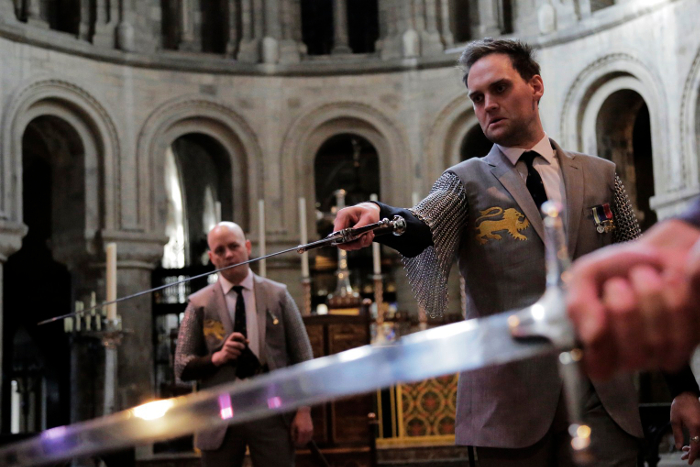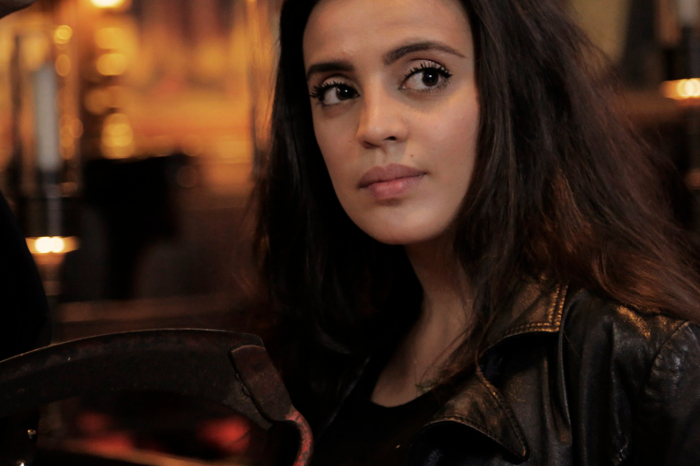 Marlowe's Edward II is a violent tragedy in which power, lust and ambition combine. Edward is a weak king whose advancement of his favourite, Piers Gaveston, garners both the hatred of his Queen, Isabelle, and of his barons, led by the ruthless Mortimer. Finally captured and put to the most horrible of deaths, Edward is succeeded by his son, Edward III, whose first action as King is to have the traitor Mortimer put to death.
A dark play in which no character is given redeeming features, Marlowe'sEdward II takes us to the claustrophobic world of a merciless court where private ambition and revenge are more important than political vision. Edward II is a bloody tale of selfish desire and misguided judgement. The King's lack of political acumen and his self‐indulgence leads to a chaos which only a strong leader will be able to end. Far from gaining a crown, the rebellious barons find death at the hands of the legitimate heir – the divine right of Kings remains unchallenged.
company
Edward Fisher (KING EDWARD THE SECOND), Ava Amande (ISABELLA OF FRANCE, Queen to King Edward), Martin Prest (LORD ROGER MORTIMER), Anna Buckland (EDMUND, EARL OF KENT, Brother to the King), Graham Pountney (DUKE OF LANCASTER), Josh Pugh (PRINCE EDWARD, afterwards KING EDWARD III, LORD LEICESTER & A POOR MAN), David J. Keogh (BISHOP OF WINCHESTER & LORD ARUNDELL), Pip Brignall (LORD PIERS GAVESTON, Favourite to King Edward & Executioner), Damian Regan (LORD SPENCER, Favourite to King Edward & BISHOP OF COVENTRY), Patrick Oldham (EARL OF WARWICK & AN ABBOT), Nadia Sangari (A MOWER, A MESSENGER and SOLDIER)
Cecilia Dorland & Eluned Hawkins (Director), Penny Rischmiller (Company Stage Management, Design & Costumes), Nathalie Gunzlé (Technical Stage Management & Lighting Design), Darren Royston (Movement & Choreography), Jean-Philippe Martinez (Original Music), Chris Wells (Programme)