VOLPONE
OR THE FOX
THE JACK STUDIO THEATRE, 2015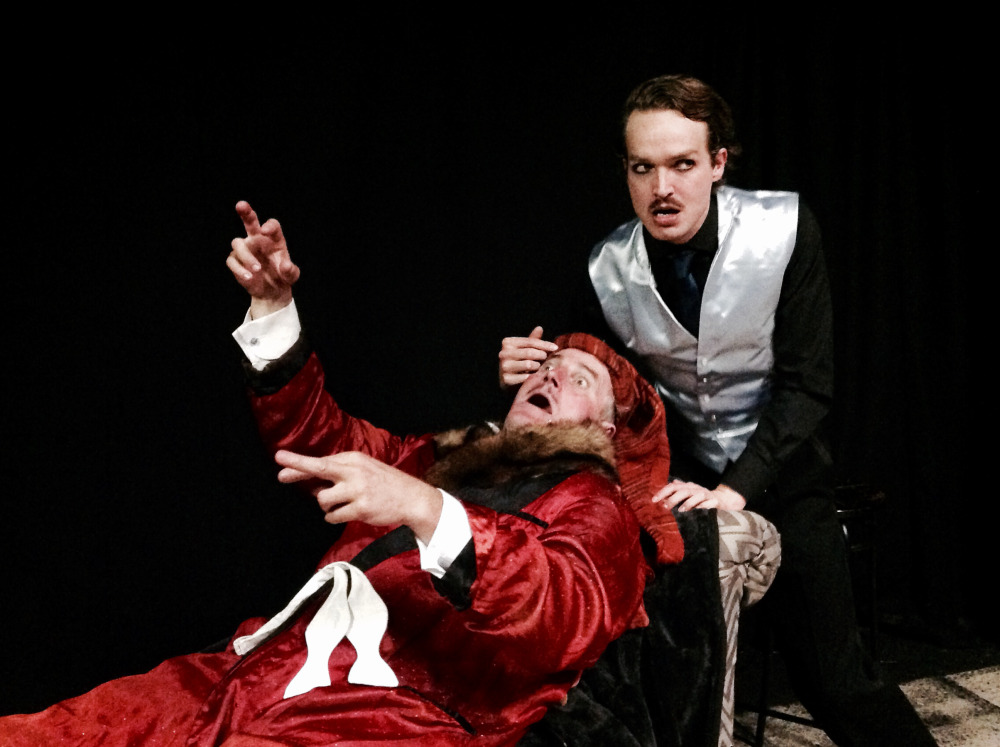 THE ARGUMENT
V olpone, childless, rich, feigns sick, despairs,
O ffers his state to hopes of several heirs,
L ies languishing: his parasite receives
P resents of all, assures, deludes; then weaves
O ther cross plots, which ope themselves, are told.
N ew tricks for safety are sought; they thrive: when bold,
E ach tempts the other again, and all are sold.
Ben Jonson, 1605 Prologue to Volpone
SYNOPSIS
Volpone (the Fox), a rich Venetian, and his servant Mosca (the Fly) pretend that Volpone is dying to encourage greedy fortune hunters to vie for hisfavour in hopes of being named his heir. These birds of prey, Voltore (the Vulture), Corbaccio (the Raven) and Corvino (the Crow), oblivious to their own foibles, duly visit Volpone with rich presents while eagerly hoping for news of his death, offering Volpone and Mosca much cause for laughter.
Things get complicated when Volpone decides to seduce Corvino's virtuous wife and Mosca invents a means to convince Corbaccio to disinherit his son Bonario in favour of his master. Caught by Bonario as he was about to force himself on Celia, Volpone finds himself taken to court and only the quick wit of Mosca gets him out of danger. Yet the Fox is not wise enough to know where to stop and intends to keep on having fun at the expense of his flatterers. In his hubris, he does not see that he, the consumed deceiver, is in turns being deceived by Mosca the parasite…
Inspiried by Roman satire and the tradition of fables in which human follies are portrayed through animal characters, Ben Jonson's exuberant satire of human greed is a feast of language and a triumphant ode to the art of acting and the misguided lure of riches. Will your sympathies lie with the deceiver – or will they lie with the parasite? Watch treachery rewarded, before poetic justice engulfs both knaves and dupes.
COMPANY
Steve Hope-Wynne (VOLPONE, a Magnifico); Pip Brignall (MOSCA, his Parasite); Rupert Bates (VOLTORE, an Advocate); Fraser Wilson (CORBACCIO, an old Gentleman); Martin Prest (CORVINO, a Merchant); Edward Fisher (SIR POLITIC WOULD-BE, a Knight); Jack Christie (SIR PEREGRINE, a Gentleman Traveller); Siobhan Gerrard (CELIA, Corvino's Wife); Joshua Pugh (BONARIO, son to Corbaccio); Ava Amande (LADY WOULD-BE, Sir Politick's Wife); Anna Buckland (AVOCATORE, a Magistrate); Martin Prest (MERCATORE, a Merchant)
Cecilia Dorland (Director); Jean-Philippe Martinez (Composer); Edward Fisher (Set Design); John Dalton (Scenic Painting); Penny Rischmiller (Costume, Sound Design); Nathalie Gunzle (Lighting Design, Sound Design); Darren Royston (Choreography)